HISTORY
One of the first notable game developers from London wasn't the kind of prestige, high-rolling, international company you'd expect from a leading global city. Rather, it was a single person studio established in 1982 by a highschooler. Operating under the name Argonaut Software, Jez San turned his programming smarts and love of the 1983 Star Wars arcade game into the home console hit StarGlider in 1986, a pioneering 3D game about piloting spacecraft shooting down enemy ships.
A few years later, he and the growing Argonaut team repeated that formula to even more acclaim and success under the supervision of Shigeru Miyamoto with Star Fox for the Super Nintendo. Nintendo went as far as to bring Argonaut to Kyoto to do so. Argonaut's relationship with Nintendo birthed the Super FX chip, which made polygonal 3D graphics possible on the Super Nintendo, and they also assisted on Nintendo's fondly remembered Stunt Race FX. Argonaut is sadly no more, having closed down in 2004. Nevertheless, games like Croc and Alien: Resurrection still hold a special place in the heart of many UK gamers.
Much more in keeping with London's image as a business hub is Virgin Interactive Entertainment, the games division of Richard Barnson's mega corporation that was formed in 1983. VIE developed a handful of titles in-house, including the Mega Drive version of Disney's Aladdin, but primarily operated as a publisher before ceasing operations in 2003. VIE is best remembered for bringing several classic games to the European market, including Earthworm Jim and the original Resident Evil games, and for publishing the likes of the Command & Conquer and Broken Sword.
In 1995, London became Sony's European games headquarters when Sony Interactive Entertainment Europe opened offices in Soho just prior to the launch of the PlayStation. Not long later, an internal development studio was established. That studio was Team Soho, who produced a number of sports titles as well as the Spice Girls game Spice World before being superseded by PlayStation London Studio in 2002. London Studio continues to develop first party Sony titles to this day and is best known for the Singstar series.
Another longrunning London-based developer is Sports Interactive. Formed in 1994 by brothers Oliver and Paul Collyer, and now run by Miles Jacobson, Sports Interactive is the team behind Championship Manager and Football Manager, far and away the biggest games in their genre.
NOW
It's no surprise that London is the UK's largest game development hub, with the city accounting for nearly half of the entire UK industry. However, London is also a major international contender, sitting alongside the likes of San Francisco, Montreal and Tokyo as one the biggest cities for game development in the world.
A list of the companies with London offices tells you everything you need to know: Activision Blizzard, Sega, Square Enix, 2K Games, Zenimax, Rockstar – and that's just the traditional AAA studios. The same is true for mobile games: Pokemon Go's Niantic has a London office, as does King of Candy Crush fame. Ustwo, the makers of Monument Valley, are also based in London.
And there's plenty more. Creators of the Batman: Arkham series Rocksteady Studios are born of The Big Smoke, as are Splash Damage, who've worked on the Gears and Halo series. Over in trendy Shoreditch you'll find Surgeon Simulator developers Bossa Studios while just outside Victoria Station is the headquarters of Mediatonic, the team behind Fall Guys. Swedish AAA developer Sharkmob is a newcomer to the city, having set up shop just off Trafalgar Square in 2020, joining fellow Nordic developers CCP who expanded to London in 2016. Feral Interactive meanwhile – a ports studio that's touched almost every household name in games, from Bioshock, to Tomb Raider, to Rayman – has called London home since 1996.
Indies abound in the capital too. On the bigger side, there's BAFTA award-winning studio Roll7, who made the OlliOlli games, while Trailmix (founded by ex-King employees) and Playtra are both smaller but expanding teams. State of Play, makers of Lumino City, is another award-winning indie team from London.
Game studios generally hiring include: Rockstar, CCP, Rocksteady, Splash Damage and Sony.
THE AREA
Forget an elephant; there's practically an entire zoo in the room when talking about life in London. There's no arguing that in terms of living costs, property availability, transport and many other factors, London is an incredibly challenging place to call home.
But not impossible. Working at a London-based games company means you'll be paid in the line with living rate, and what's more, there'll be plenty of others in your same position with whom you can share living space. And on top of that, there's the fact that you'll get to live in one of the most culturally rich, diverse and historically significant cities in the world.
Speaking of which, it'd be a fool's errand to try to list everything worth doing in London – I mean, you've got some of the best museums (The British Museum, the Natural History Museum), galleries (the National Portrait Gallery, the V&A), music venues (The Electric Ballroom, Roundhouse), parks (Regent Park, Hyde Park), markets (Borough Market) and really anything you're looking for in the world.
Instead, let's focus on the things London has to offer a games enthusiast. First of all, there's London Gaming Market, which is like the biggest and best car boot sale dedicated solely to games, from retro consoles and rare collector's items to game-related memorabilia and bargain bin preowned games. Held three times a year at the Royal National Hotel, it's a great place to discover obscure old titles and meet fellow fans.
Like most major cities nowadays, London has its fair share of arcade bars, but here's a few worthy of a special mention. Not content with just being a place to play to thrash your pals at a classic arcade game while you nurse you pint, Loading is part laid-back bar, part videogame library that also hosts esports viewing parties and a RockBand karaoke night. They also have an impressive selection of highly customised cocktails based on popular games – try the "Alien: Resurrection", which includes a whole kinder egg. For a more traditional barcade experience, check out Four Quarters, which specialises in all original arcade machines and quality craft ale. Or, if gimmicks are what you're after, head down to PONG at Kings Cross. A concept so far beyond parody you can't help but want to try it, PONG offers a digitized version of beer pong played on specially designed TRON-like tables lit in vibey neon colours.
COMMUNITY
The biggest name in the London games community is Games London, an organisation that aims to attract business to the London game scene and connect local developers with investors. Games London also runs the London Games Festival, which attracts 100,000 attendees per year and hosts events like EGX Rezzed and the BAFTA Game Awards .
Meeting once a month at the Pancras Square Library, Game Dev London offers developers a chance to share their lunch break with a group of likeminded and talk about what they're working on. Game Dev London also has an online community managed via Discord and produces its own podcast. Anyone in the community can apply to host an episode, making it a great way for folks of all sorts to share their insights with the London games scene at large.
For women in the games industry, there's Coven Club, which is both a support network and laid-back monthly meetup held in a rotating lineup of comfy venues around the city. Coven Club is free to attend and is primarily a social event focused on making friends and generally having a nice time with other women in games.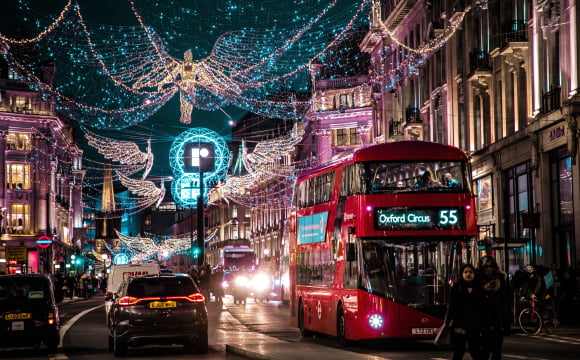 USEFUL LINKS:
Tourism: https://www.visitlondon.com/
Community: https://games.london/
Community: https://www.gamedev.london/
Community: http://weatherfactory.biz/coven-club/
Article by Andrew Gordon